RESIDENCE IN THE PRINCIPALITY OF MONACO
The Principality of Monaco is an independent State located on the French Riviera and is well known as a thriving business and financial centre. Monaco is considered as an ideal place of residence for anyone wishing to live in a safe European location with high-class leisure facilities, a pleasant climate, and a favourable tax system. The Principality is also a popular vacation spot for high net worth individuals who want to enjoy the sunny and warm climate year-round and a high level of security. Monaco is characterised by a very high-income economy, a high quality of life, and a very high standard of living. Residency in Monaco is a luxury sought by many wealthy families worldwide.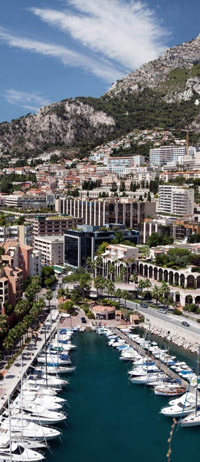 Nationals of countries outside the European Economic Area (EEA) will need to apply for an Establishment visa issued by the French authorities, before applying for Monaco residency. The application is filed with the French Consulate of the applicant's current place of residence.
If the person concerned has been living in France for at least one year, he/she will not be required to apply for an establishment visa.
They simply need to submit an application for settlement in the Principality with the French Consul General in Monaco.
If the person concerned has been living in France for less than a year, he/she must apply for a visa from the French Consul General in the place where he/she was living before settling in France as explained above.
Once the Establishment visa is obtained, the applicant will file his/her residency application with the Residents Section of the Sûreté Publique (Monaco Police Department) in Monaco. The application is made online, following which the applicant will be invited to attend an in person interview with the Monaco Police Department.
The applicant is expected to demonstrate, inter alia, the following:
An accommodation in Monaco, of an adequate area to accommodate the applicant and his/her family;
Sufficient financial resources;
Good character, by supplying a copy of clear criminal record in the last country of residence.
Upon successful application, the first residence permit (called "temporary residence permit"), will be valid for one year, and it can be renewed twice if the conditions for its delivery are still met. After three years of residence in Monaco, the resident can obtain an "ordinary residence permit" which lasts three other years and can be renewed twice. At the end of a ten years period of residency in Monaco, the resident is allowed to apply for a "privileged residence permit" which is valid for ten years and can be renewed indefinitely. Children under 16 are provided with a "travel document" which is valid for maximum 5 years. The document expires when the child reaches 16, upon which the child will need to apply for a residence permit.
ADVANTAGES OF LIVING IN MONACO INCLUDE:

 
High Standard of Living
Attractive lifestyle and an ideal location at the border of the French and Italian Rivieras
Easy access by road, sea, and air to the international airport of Nice
Residents in Monaco enjoy a remarkably sunny climate (more than 300 days a year of sunshine) and very mild winters
Multicultural environment
High quality and free primary and secondary education
Proficient healthcare system covered by a good health insurance for those who work in Monaco
High quality of athletic and cultural facilities
A very stable real estate market that offers significant opportunities to investors
A secure banking system
Secure Environment
Peaceful, democratic and politically stable country – Monaco has been run by the Grimaldis for the last 700 years
An undivided society
Exemplary domestic security, both for residents and visitors, which forms one of the Government's priorities, together with social services and health care
No Investment Requirements for Citizenship
After ten years in permanent residency status it is possible to apply for naturalisation.
No specific investment is required.
Low Tax Jurisdiction – Monaco levies no personal income tax, no wealth tax, no local tax, no property tax, and no capital gains tax on individuals. Corporate tax and inheritance tax are minimal in comparison to other countries.
If you plan to settle in Monaco, we are here to help you navigate the administrative, banking and real estate procedures required to obtain residence permits for you and your family and to help you create your business in Monaco.